Some time ago I watched this video from Paul Hollywood in Madrid. I was amazed! And there was something I had in my to-cook list: Empanada
As a kid I have eaten different types of empanadas, mainly vegetable and meat ones. Although you have find versions with fish (cod) and seafood/octupus. Depends on the region in Spain.
And you can find them in many Latin countries too!
Finally this weekend I gave it a go.
Based on this recipe, I made mine with grilled vegetables.
Filling: Grilled Vegetables

Pre-Heat oven at 200C
Oil a tray.
Cut several types of vegetables: onions, courguettes, peppers, potatoes, tomatoes, etc
Add some spices: tumeric, paprika, a bit of salt, etc
Mix everything with your hand so all ingredients have a bit of oil coatting.
Put in the hot oven for 20m at least. Depends on the amount of vegs. At this point you coud start the empanada dough.
Empanada Dough Ingredients:

You should put the butter and lard (pig's fat) into the freezer!
200gr plain flour
1/2 tsp salt
125 ml water
65gr butter, frozen and then grated (or finely laminated)
65gr lard, frozen and then grated (or finely laminated)
1. Oven should be hot from the grilled vegs at 200C
2. Mix the flour and salt. Add water bit a bit until getting a dough. Shouldnt be too sticky. You can knead it a bit.
3. Roll the dough out into a rectangle on a lightly floured work surface. Add half of the butter/lard over the pastry. Fold the dough on top of the butter/lard. Turn, use the roll to mix and repeat again with the rest of the butter/lard. In the video is much easier to see/understand. Repeat the roll and folding two more times so we create the layers in the pastry.
4. Wrap the dough in cling film and leave to rest in the fridge for 30 minutes before using.
5. Take the chilled pastry from the fridge and roll out onto a lightly floured surface. Roll into a rectangle. Just be sure the dough doesn't break. Brush the edges with beaten egg as this will be the sticking point for the pastry.
6. Add the grilled vegs in half of the dough. Fold the other half to cover the filling. Press the edges to seal. Brush the top with beaten egg
7. Put in the oven at 200C for 25 minutes or so until the pastry is crispy and a golden brown colour.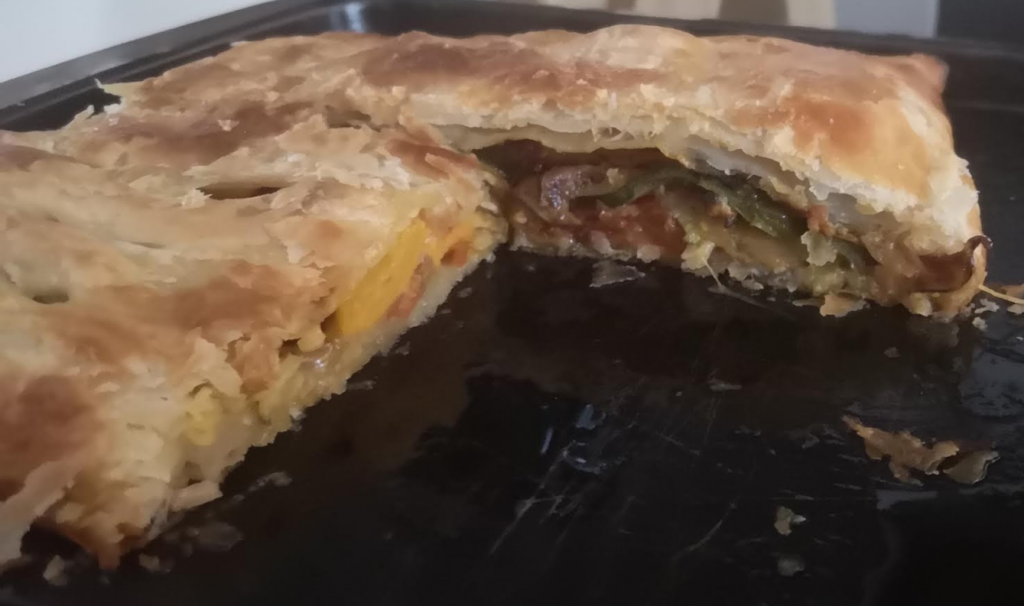 For being the first time, I was really surprised how crunchy it was! I had a good lunch.
I think you prepare the dough the day before, and as soon the vegs are ready, take it out of the fridge and carry on.
Grating the butter/lard was a bit messy even being frozen. Next time I will slice it very finely. When making croissants, you just flatten the butter.
Anyway, new recipe in my arsenal!