I tried filo pastry last year and it was a bit of disaster so I had in my todo list to try again. And this weekend, it was the time for it. I felt like to eat some good burek so I needed filo pastry for it. So the ingredients and process is the same as before but I will copy anyway:
Filo Pastry Ingredients:
500g plain wheat flour
250ml whole milk
100ml vegetable oil
10ml vinager
5g salt
unti-stick mix: 200g thin corn flour + 100g plain flour
Filo Pastry Process:
In a bowl, add milk, oil, vinager and salt. Mix well. Then add the 500g flour. Mix again until all combined.
Knead the mix on your work surface for 10 minutes or so until you have a smooth dough.
Wrap up in plastic film and let it rest for 1h on your work surface.
Prepare the anti-stick mix: combine the corn and wheat flour.
Dust your work surface with the anti-stick mix.
Divide the dough in 20 small pieces. Highly recommended to use a scale.
Each piece, create a ball and let it rest in a baking try. Cover the try with a kitchen towel or plastic film.
Then starts the "difficult" part. Pick one ball, use a bit of the anti-stick mix in your rolling pin and on the ball. Spread the ball in a circle around 13cm diameter or so. It should just a couple of moves in each direction. Then be generous with the anti-stick mix, as we need to create a stack of 10 pieces and it is critical so they dont stick. Put the first piece with anti-stick mix on top. And repeat the same process with other 9 balls.
Once you have the 10 pieces together, you have to spread all of them at the same time. Again be sure you have plenty of anti-stick mix in your work surface, rolling ping, etc.
Spread slowly in all directions, turning the stack, being careful that all layers spread equally.Likely you get up to 3 or 4 times bigger than the original form.B But dont over stretch it, if you do, the layers will join and will be difficult to separare later.
Now you have to remove each layer from the stack. Be careful, it should be paper thin!
In baking paper, with a layer of anti-stick mix, put each layer adding extra anti-stick mix on top. Again, be generous with the anti-stick mix! After adding the 10th layer, use another piece of baking paper and now roll everything together slowly. If you want to keep it in the freezer of fridge, then wrap the roll with plastic film.
Repeat the same process with the final 10 balls.
So at the end you end with two packets with 10 layer each.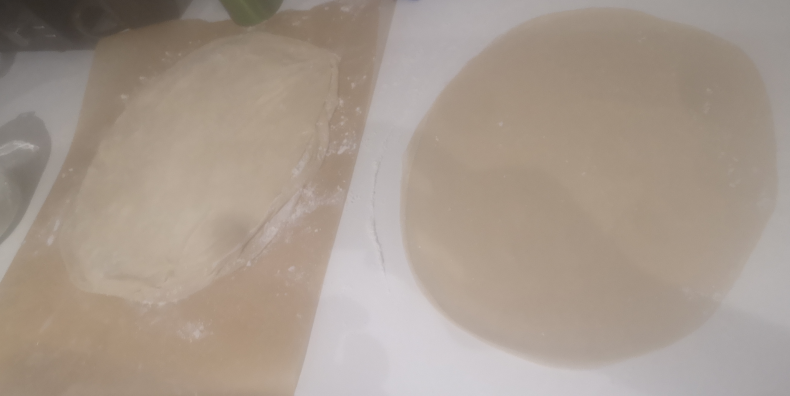 Burek Ingredients:
200g ricotta cheese or mascarpone
800g sour cream
5 eggs
1 tsp dry yeast
salt to taste
20 layers of filo pastry
sunflower oil for spreading between layers
Burek Process:
Preheat oven at 200C
Grease a baking tray with a bit of sunflower oil.
Add cheese, sour cream, eggs, yeast and salt in a bowl and mix until runny.
Brush two sheets of pastry indiviually with oil and place into the tray
Spread a thin layer of the filling onto the pastry.
Repeat the process of adding two oiled layers of pastry and then a layer of cheese filling until everything is used up.
With a fork or knife make a few holes in the top as the pastry will raise quite a bit!
Put burek in the oven for 30-40 minutes or golden on top.
Remove from oven and let it rest.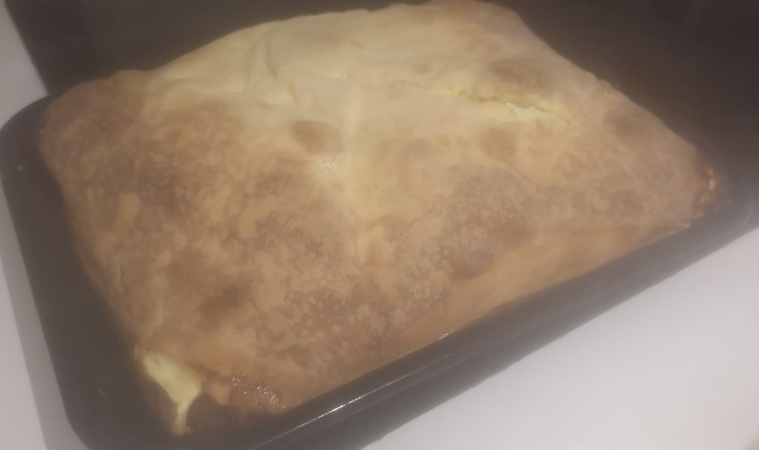 This time the filo pastry was FAR MUCH better than last year. I didnt make the same mistakes for a change 🙂
Although I did the filo pastry the day before. I think I should have add a bit more anti-stick mix between the layers when doing the packets.
Regarding the burek, it tasted good. I think it needed a bit more salt. As well, the filo pastry taste it was very different from the shop bought one. It tasted a lot to bread, so it surprised me.
Anyway, I need to do it more often.