For some time I had in my mind to try rice pudding and I found this recipe that looked fun to try as there were some ingredient that I didnt expect. This was a quick, easy and tasty dessert that I really liked as a child but to be honest I failed a bit with this attempt, I think you need to use a rice like Arboreo (rissotto) or Bomba (paella) that has a lot of starch that makes the dish creamier. I didnt follow the recipe to the dot (as usual) as I think using the flaming gun it was a bit too much and I dont have an express pan. But I liked the touch of the anise and cream.
Ingredients:
1 glass of rice (arboreo/paella)
1 glass of water + pinch of salt
1 lemon peel
1 stick of cinnamon
2 glasses of milk
1 glass of cream
Brown sugar (to taste)
Anise (Sambucca) to taste
Process
In a pan, boil the glass of water, add the rice, cinnamon stick, lemon peel and salt.
Once most of the water is gone, add the milk and cream. And lime peel if extra.
Keep stirring at high heat. Milk should reduce and the rice becomes creamy
Then add the anise, I added 4 caps. It gave a touch of anise but not too much.
Add sugar to taste.
Put the rice pudding in a glass dish and let it rest a bit until a film forms (that's the cream). Pre-heat the grill in the oven to the max.
Spread some sugar on top and put the glass dish in the oven for 5-10 minutes until the top is golden.
Let it cool down and eat!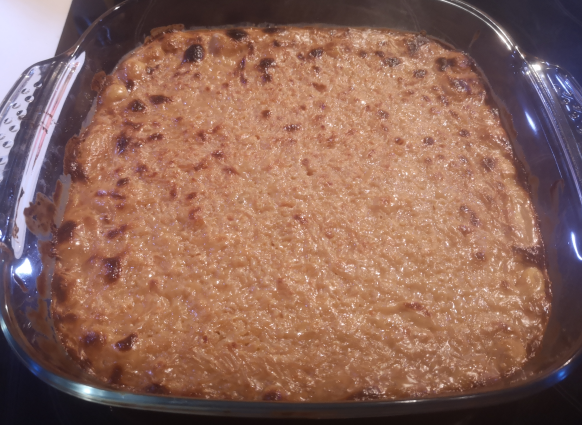 The one that my mum used to cook was much simpler. It was just boil the rice, sugar, cinnamon and milk. Once kind of creamy, let it cool and then add extra mix of sugar/cinnamon to your taste.
All good no matter what!