I am allergic to fish. But I love tuna… if comes from a can. When I was in Madrid, I tried homemade marinade tuna a.k.a "atun en escabeche". It was amazing. So I decided to try myself (and hope to not end in a hospital like when I was a kid)
So searching I decided to try this recipe. I was planning to make a big batch like in the video but when I managed to find a fishmonger with fresh tuna… I was amazed how expensive it was. I only could get the leftovers, a 600gr slice, already cleaned. That gave me at the end for one 600ml jar (plus a small one for the confited onions)
Ingredients:
600gr fresh tuna, cleaned.
2 onios sliced
2 glasses of mild olive oil
1 glass of vinegar
2 cloves
3 bay leaves
5gr salt
pepper
several cloves of garlic
Process:
In a high pan, put the sliced onions in the bottom, then garlic, bay leaves, cloves, pepper.
Then add the tuna and salt on top of it. Then add the olive oil and vinegar
Heat the pan until boil. Then lower to mid heat and leave it for 20 minutes.
Let it cool down. Then take the tuna out and leave in another tray.
Filter the liquid and keep the onions. We will add it into another jar.
In a crystal jar (that has been previously cleaned with boiling water) put the tuna. Try to fill it as much as you can. Leaving as few air pockets as possible.
Then add the liquid you filtered before. Fill the jar till the top.
Add the onions to another jar and add the liquid to the top.
Let the jars open, and leave it overnight.
Next day, close the jar with their lids.
Put the jars (vertical if you can) in a high pan. Fill with water, hopefully water will be one finger than the jars, if not, you will have to be sure the jars are properly closed and then put in horizontal.
Boil the water, then let it simmer at mid heat for 1h 30m or so. This is the critical step to allow the tuna last for months.
Let the jars to cold down in the water.
Label the jars with a label with the date of preparation. You can eat the tuna in three months!!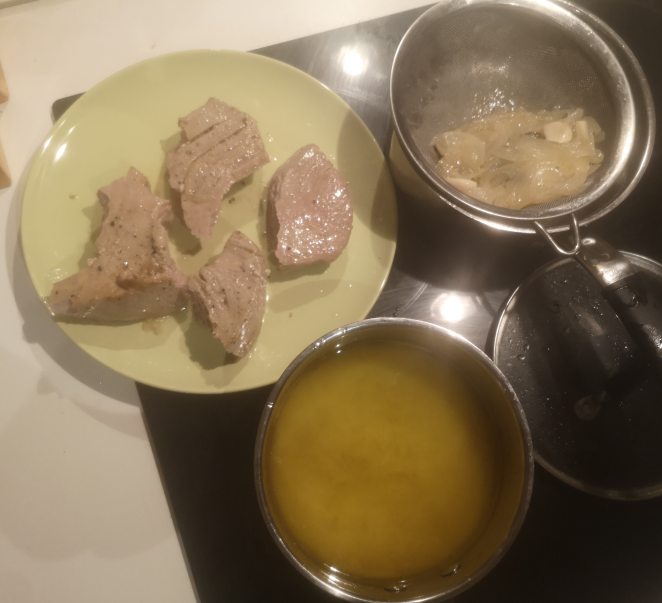 So I will have to wait for a bit until I try it. So very likely I will make another batch next month.