Last weekend I was in Munich visiting a good friend. We had good weather and enjoyed to be outdoors, mainly in the "English Garden" and the "Olympic Park". I tried local cuisine like currywurst (sausage with a ketchup/curry sauce), kaiserschmarrn (broken up pancake with raising) and beer (with lemonade) in the famous Bavarian beer halls.
So this weekend I decided to try the kaiserschmarrn as it was something quite new for me. I followed this recipe.
Ingredients:
1/3 cup of raisins
3 tbsp of rum
3 large eggs, separate whites from yolks
1 tsp vanilla paste
2 tbsp sugar
1 pinch of salt
1 cup plain flour
1 cup milk
some almond flakes (optional)
2 tbsp butter
2 tbsp sugar
Process:
1- In a cup, soak the raisins with the rum. Let is rest
2- In a crystal bowl, put the egg whites and try to beat them until form stiff peaks (no big deal it you dont get that far). I did it by hand. It takes time so be patience. See this 🙂
3- In another bowl, mix the egg yolks, melted butter, vanilla paste, sugar and salt. Be sure everything is combined.
4- In the yolks bowl, start adding bit a bit the flour and milk, and keep mixing until everything is combined
5- Take the egg whites and fold them in the yolks bowl slowly until everything is combined
6- Heat up an anti-adherent pan (mine is around 26cm diameter) using a bit of butter or coconut oil at medium heat. Pour all butter mix in the pan.
7- After 3-4 minutes, add the raisins. Keep checking the bottom of the pancake until is golden brown. Very likely less than 10 minutes in total.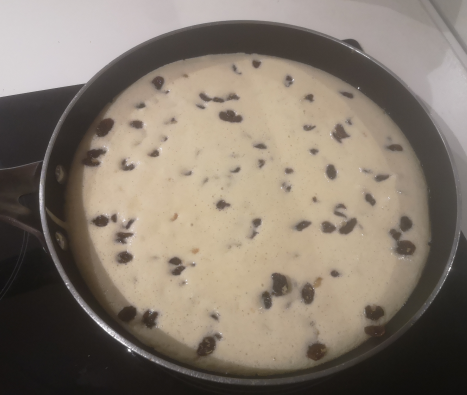 8- Once the bottom is golden brown, sprinkle a bit of sugar in the top. Using a knike or similar, divide the pancake in 4 quarters. Then turn each piece at each time. Add a bit of butter to the pan while turning to avoid burning the new side.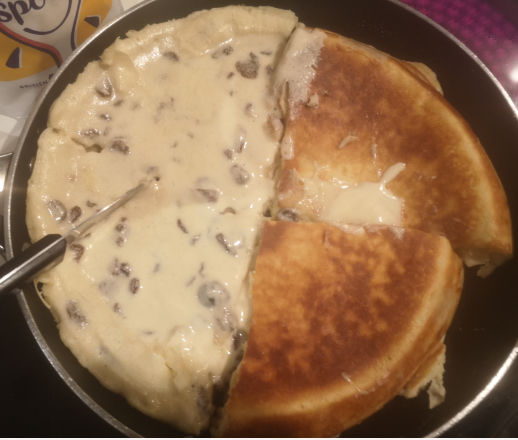 9- Keep cooking until the bottom is again golden brown.
10- Tear the pancake into small pieces using forks or similar.
11- Add the remaining 2 tbsp butter and 2 tbsp sugar over the pancake pieces. Toss the pieces while the butter and sugar caramelize.
12- Ready to serve! You can add a bit of sugar powder on top and add some mermelade in the side.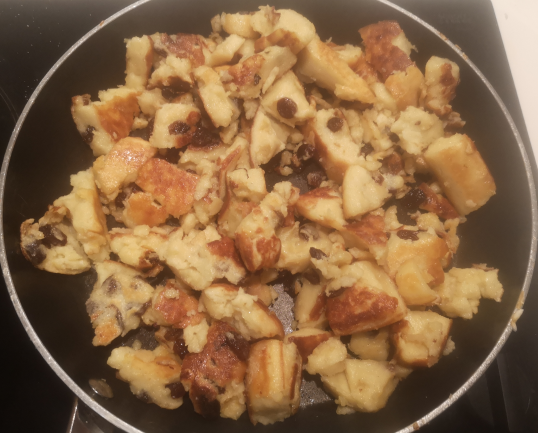 Something I forgot, you can add almond flakes too!
Anyway, very happy with the result. It amazes me how tasty are the raising in some dishes… they are super juicy and it makes the difference in this one.