Sometimes I buy from the supermarket oatcakes for having snacks at home. I like them because they are not sweet and I think they are "healthy". But then you check the ingredients list and realized that there are things you wouldnt think…
Anyway, I decided to give it a go and searched for some recipes. I decided for this recipe as it showed some pictures although I used just oats and plenty more water than a couple of tablespoons 🙂
Ingredients:
200gr oats
25g butter melted
1tsp salt
100-200ml boiling water
Process:
Preheat oven at 175C
In a bowl, mix the oats and butter.
Then add a couple of tsp of hot water at each time until you can form a ball. Knead inside the ball. It doesnt have to be sticky! so dont put too much water.
In a work surface, sprinkle a bit of flour and in a rolling pin. Carefully flat the dough with the pin. I tried to reach 0.5 thickness. The sides will crack but dont worry.
Use a cookie cutter. I used 8.5cm diameter cutter. Quite big cookie but I liked that way. Likely you will be able to cut one or two cookies at each time. Make a ball again with the leftovers, add water if needed, and repeat the process. Flat with the pin, cut a cookie, recover the leftovers.
I put a big of sunflower oil in the try, then move the cookies.
Bake for 25-30 minutes. Turn them at least once if you can.
And this is the result!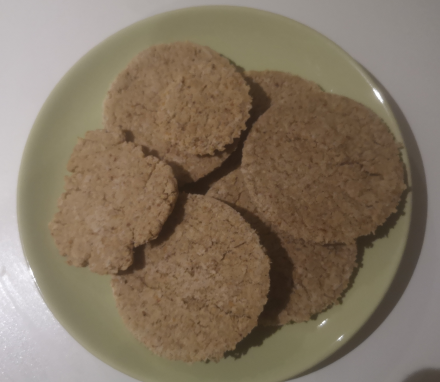 To be honest, the taste was stronger than the supermarket ones. It tastes (obviously) a lot to oats!
I thought 200g of oats would make a lot of oatcakes but just managed 5 big ones and 2 small pieces.
Happy with the result, and glad to learn something new!