This is dish I wanted to try for some time. I knew about it by chance after reading about the favourite dish from a football player and then by chance, having it by lunch one day at work. It was very tasty, looked healthy and not very complicated. So finally, this weekend I tried it.
I followed this video but not to the dot as I missed/forgot some ingredients. Still, the result was quite good. I only did the tomate sauce
Ingredients:
1 can of chickpeas (I didnt use because I had too much food)
3/4 glass of green/brown lentils
1 can of good pasata
6-7 minced garlic cloves
3/5 glass of rice (I used basmati)
1 glass of pasta
7 small onions, sliced (not diced)
Pepper, salt, ground coriander, chilli flakes
Olive oil
1 glass of sunflour oil for deepfrying.
Process:
In a bowl, put the sliced onions with a bit of salt, pepper, ground coriander and chilli flakes. Toss it to be sure everything is well mixed. The idea is to make the onions to sweat a bit.
Cook the lentils in a deep saucepan. Add two parts of boiling water for 1 part of lentils. 1 tsp of coriander and salt + pepper.
Dont over cook it, something "aldente"
Keep the water of the lentils to cook the pasta. Let aside the lentils.
Cook the pasta with the lentils water. Again, till "aldente". Set aside.
Save the water for the last step.
Heat up a a frying pan. Once hot, add some oil and the minced garlic. BE CAREFUL dont burn them!
Add the tomate pasata to the garlic. Add some salt/pepper. Taste.
Let it cook at medium heath until thickened. Set aside
In the deep saucepan used for the lentils, heat up the sunflour oil
Once it is hot, add a handfull of onios.
NOTE: Leave a hand of onions without frying for next step
Let if try for over 10 minutes or until brown (but not burned!)
Remove the onions and let them dry with kitchen paper to absorve the oil. Separate them so they dont stick each other.
Repeat the process with another batch of onions untill all are done.
In the same saucepan as the onions. Remove some oil, try to clean any debris.
Once is hot again, add the leftover onios. Fry until golden.
Reduce to low-middle heat.
Add the rice, mix very well so it doesnt stick to the bottom
Add a couple of tbs of tomate sauce
Add the pasta water. Top up if needed.
Once the rice is done. Add the lentils and pasta. Mix all carefull
For serving, add the rice/lentil/pasta base
Add some tbs of tomate on top
Add some crispy onions on top.
In the middle of the process: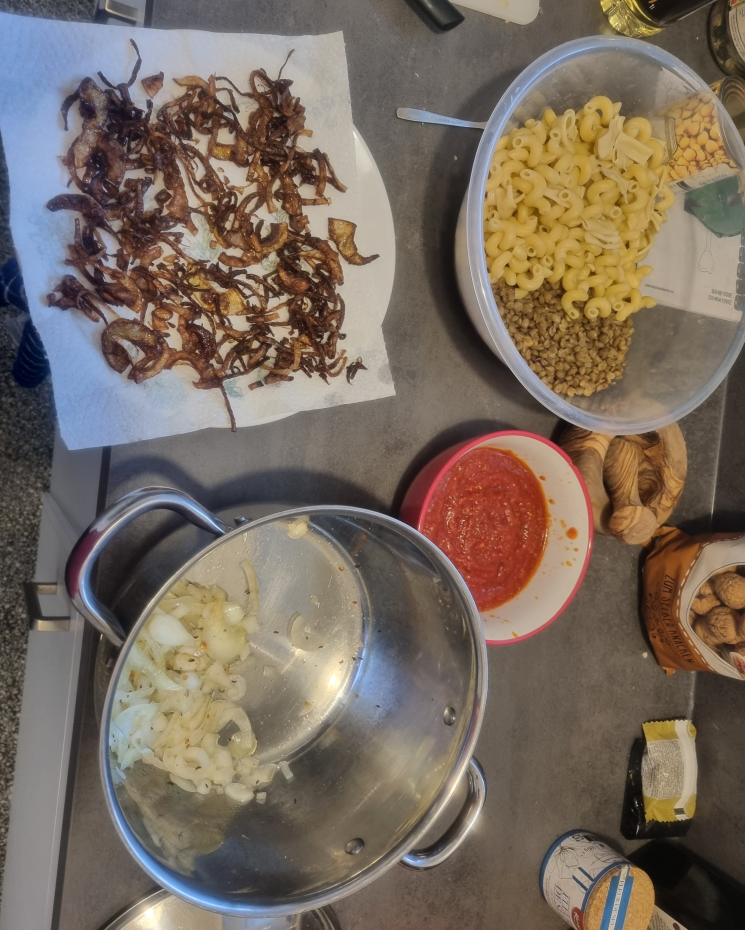 Final: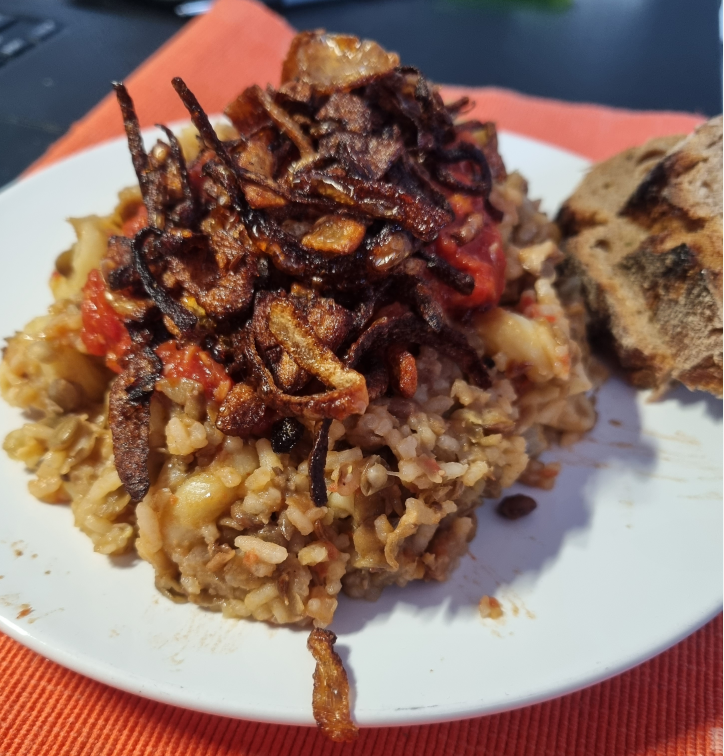 It didnt taste like the one I remember but it was quite good.
For next time, I need to make the Dakkah, Garlic Vinegar sauce.