Bread is my favourite food and with water, I could live anywhere. I mainly bake sourdough with rye flour based starter. And never managed to get big open crumbs although I have watched many videos, I stick with the recipe I learned.
This weekend I decided to try a recipe for a loaf that looked easy to get open crumbs. I am not sure if it is really rustic but it liked the video and it was easy to follow.
Ingredients:
500gr strong flour (13% protein)
400gr water
3gr dry yeast
7gr salt
Process:
In a bowl with the flour, make a well in the middle and add the water.
Add the yeast to the water and mix. Then mix everything for a bit
Add the salt and keep mixing until everything is fully combined.
Let it rest for 1h. Cover it with a shower cap and towel.
Fold the dough from the corners several times. Wet your hand with water so the dough doesnt stick too much. Let it rest for another 1h.
Pre-heat oven at 250C
This is the "difficult" part. In your work surface add flour, and pour your dough over it. Spread the dough in a rectangle. From the top side, start "wrapping" the dough. Then wrap the dough from one side until you have kind of a small square.
Flat a bit the dough, and wrap it again starting from the top seam. Then again, fold it from one side. With your hand try to give a rounded form to the dough.
Move the dough to a lightly floured tray with baking paper. Rest for 15 minutes
Again, flour your surface, pour the dough, form a square and then fold again starting from the top seam. Pinch the sides and main seam to it looks "locked".
Move to the tray again and rest for 5 minutes.
Score your dough with a razor
Bake for 20 minutes at 250C and 30 minutes at 220C (or as much brown you want)
Let it cool down and enjoy!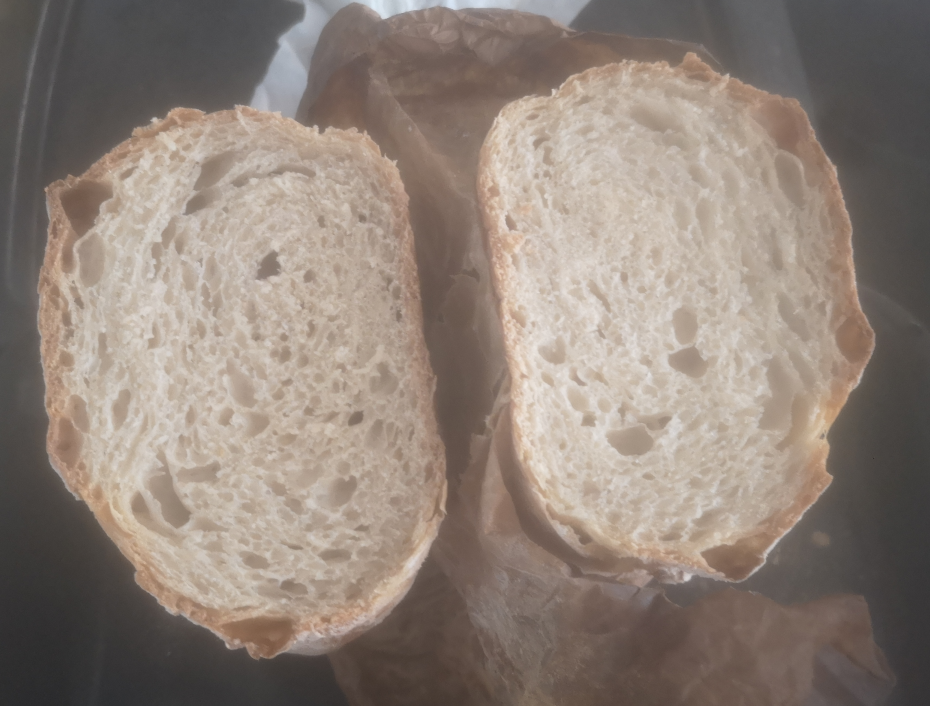 Unfortunately, the open crumb wasnt as good as in the video so a bit disappointed. So not really sure what I did wrong. At some point I will try again.
Taste wise, it is different from my sourdough loaf. I think I should have left it in the oven a bit longer.
In general it is a good bread, if one day I forgot to have my sourdough ready, I can have a fresh baked loaf in around 3h.