I have a good friend that is vegan and some time ago bought a book to find some recipes so I had some to cook when arranging a meal at home.
So last week, I had a broccoli in the fridge and I wanted to do some nice with it. So checking the book I found a vegan version of "Mac & Cheese". I didnt follow the recipe to the dot as I used real butter for the white cream.
Ingredients:
1 head of broccoli, cutting the florets
1 onion, chopped
Good splash of olive oil
300g mushrooms, chopped
350g macaroni (or any small pasta)
White sauce:
500ml milk
70g butter
50g flour
garlic powder
1 tsp mustard (optional)
salt, pepper
5-6 tbsp of nutritional yeast (or just Parmesan cheese)
60g breadcrumbs
Marinade
5tbsp soy sauce
20ml honey (or maple syrup or similar)
20ml apple cider vinegar
20ml olive oil
Process
Preheat oven at 180C. Prepare two baking trays. Prepare a large saucepan with boiling water. Lasagne dish
Put the broccoli florets and chopped onion in a baking tray, drizzle some olive oil. Season with a bit of salt and pepper. Put the tray in the top shelf of the oven
Mix all ingredients of the marinade, add the mushroom chunks to the marinade. Be sure all it is coated. Spread the mushrooms over the second baking tray. Put the tray below the broccoli tray in the oven.
Check all veggies are brown/golden after 15 minutes.
While veggies are roasting, put the pasta into the boiling (and salted) water. Cook as per instructions (until al dente). Then drain and put in the lasagne dish
Prepare the white sauce. In the saucepan, melt the butter, then add the flour. Now at low heat, combine with a wooden spoon until you have a paste. Then start adding the milk bit a bit keeping a creamy sauce. Add the garlic powder, mustar, salt, pepper, yeast (or cheese). Taste it.
In the lasagne dish, add the veggies, mix well. Add the white sauce, mix well.
Add the breadcrumbs, a bit of salt/pepper and put back in the over at high temperature until golden the breadcrumbs.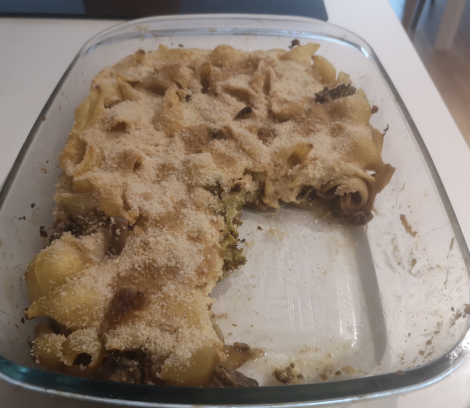 Happy with the result.
To be honest, the marinade gives all the flavour!