Or "sand in the pocket" biscuits or just super tasty biscuits with a glass of cold milk.
Wet Ingredients
340gr butter at room temperature
128gr icing sugar
50gr egg whites
1 tsp vanilla
Dry Ingredients:
380gr strong white flour (bread flour)
1 tsp baking powder
1 tsp salt
Glace cherries (for decoration)
Process
Pre-heat oven at 180C
Sift dry ingredients together and set aside.
Cream the butter until pale and creamy. Then add the icing sugar.
Add the egg whites and vanilla 1/3 at the time to the butter mix until fully incorporated.
Add the flour to the wet ingredients. Mix until fully combined, dont overmix.
Using a pastry bag with a large star tip, pipe into 5-6cm wide circles into your baking tray.
Decorate with glace cherries
Bake at 180C for 15 minutes or until lightly golden and well-browned in the edges.
Let it cool down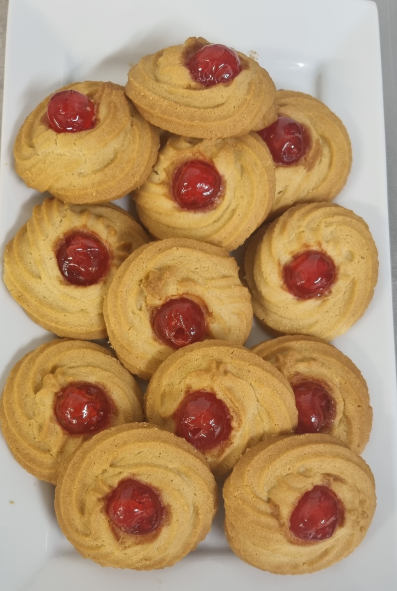 Once of the best biscuits I have done. Very easy to make, quick and tasty! Sold.