This is not the typical "carrot cake". I have some memories when my mother used to make this cake. I have tried to find the recipe in her papers a couple of times but never found it (I think). So I asked a very good friend of her about this recipe and lucky enough she had it so managed to take a picture of it. And finally this weekend I decide to try.
Ingredients:
250g of sponge fingers
400ml milk
200g sugar
150gr cocunut sherred
500g peeled carrots
1 tin of 1L aprox
Process:
Boil the carrots in a sauce pan with just a 2 fingers of water. Check from time to time that there is enough water and they dont stick to the bottom. If they do, just add some water and scrap the bottom. It is the sugar from the carrots so it is good.
Once the carrots at soft enough so a fork can easily go through them, remove from the heat. Remove all the water with a sieve or strain.
Put the carrots, milk, sugar and 100g of coconut in the food processor. Mix until all combined like a cream.
In the tin, cover the bottom with a layer of sponge finger. Then add some carrot cream slowly so the fingers dont move. Press a bit with your hand so all cream gets into the sponges. Add another layer of sponge finger, add another layer of carrot cream. Add a third and final layer of sponge fingers and carrot cream.
Put the tin in the fridge for 3-4 hours.
You can remove the cake from the tin if you want to present to people. Then add the rest of the coconut on top. You can add some berries on top optionally.
Optionally, you can just spread the rest of coconut on top of the tin.
This is the resut: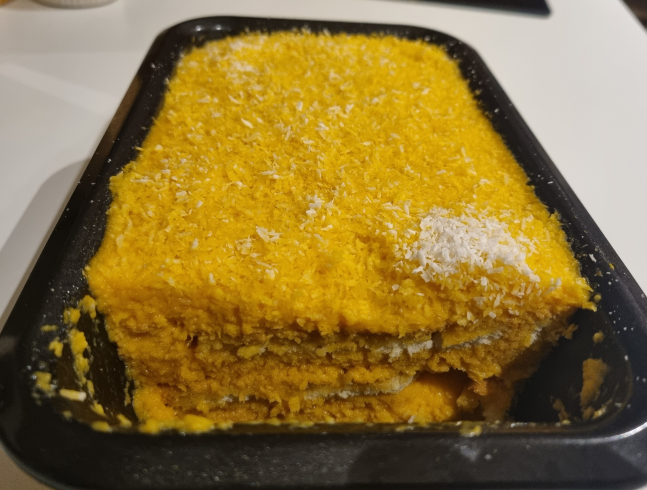 It is quite tasty and really simple. The only "difficult" ingredient maybe is the coconut shreds and find the sponge fingers.
And to be honest, looks like a carrot "tiramisu" 🙂 And although it is a nice cake somehow it is not what I have in my memory. Anyway, I will keep this recipe.