I like a lot "atun en escabeche" but it is really difficult to find. And to make it, quite expensive… So during a conversation, a friend of mine, mentioned "pollo en escabeche" as vey tasty dish with similar flavour to "atun en escabeche". So I decided to give it a go and find a recipe. This one looked very good.
Ingredients:
400g chicken breast
1 big onion sliced
2 large carrots sliced
3 cloves of garlic

1 glass of white wine
1 bay leaf
15 pepper corns
1 glass of vinegar (white wine, apple, etc)
1 glass of water
salt + pepper
Process
Salt and pepper the chicken breasts.
Fry the chicken in a hot pan until golden outside. Put apart.
In the same pan, add the onions, carrots and garlic. Fry until soften, aprox 4-5 minutes.
Add glass of wine, bay leaf and pepper corns. Keep the high heat so the alcohol evaporates.
Then add the glass of vinegar and water.
Add the chicken back in.
Cook at high heat for 15 minutes so the liquid evaporates a bit and the chicken absorbs some juice.
Remove from the heat and pout the content of the pan into a glass dish.
Ready to eat!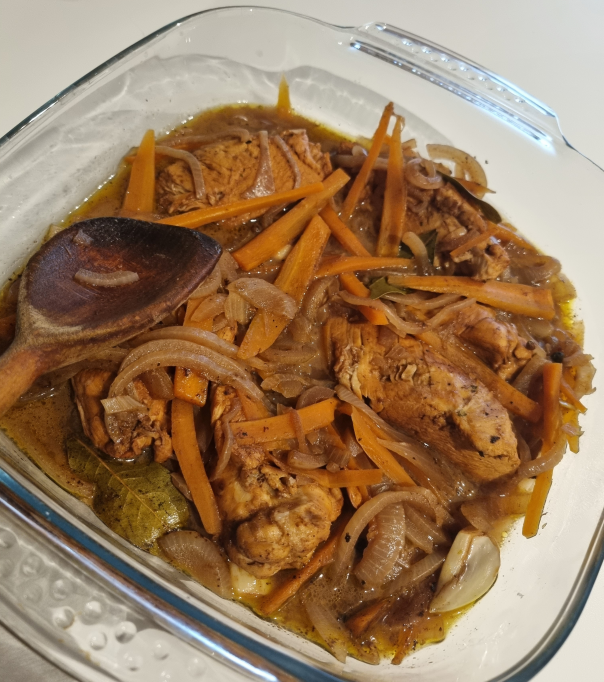 Very easy, quick and tasty!