I booked a baking e-course for this morning regarding Greek baking. At the end, I had only the instructions and couldnt join the session so I decided to go ahead myself anyway. So it was a nice way to wake up early and start the weekend.
Olive Bread – Elipsomo
Ingredients
400gr strong white bread flour
1/2 tsp garlic powder
1/2 tsp fine sea salt
7gr dried yeast
250g water
30g honey
2 tbsp olive oil
75g olives, pitted and chopped
1 tsp rosemary chopped
Process
Pre-heat oven at 80C to help proving the dough later. Let it warm up for 5 minutes and then drop the temperature to the minimum.
Put flour, garlic powder, salt and yeast in a bowl and mix well
In a small bowl, mix water and honey until well combined
Make a well in the center of the flour bowl and pour the water/honey mix. Combine well until a ball of dough is formed.
Put the dough in a table and knead for 8-10 minutes. It should be smooth and pass the "window pane test".
Then add one tbsp of olive oil in the bowl and spread it around. Put back the dough, let it rest inside the oven. Be sure it is just warm. Let it be until it doubles in size.
Take the dough out of the oven and pre-heat at 220C.
Flatten the dough like a rectangle, add the chopped olives and rosemary. This is the difficult part because I wasnt sure what to do. I tried to make a ball again but it started breaking with the olives. Anyway, once shaped in a ball, let it rest for 5 minutes. I need to find a video to see clearly this part.
Prepare a baking tray with paper and put the dough. Coat the dough with the last 1 tbsp of olive (I forgot this 🙁 )
Bake for 25-30 minutes until golden.
This is the result!!!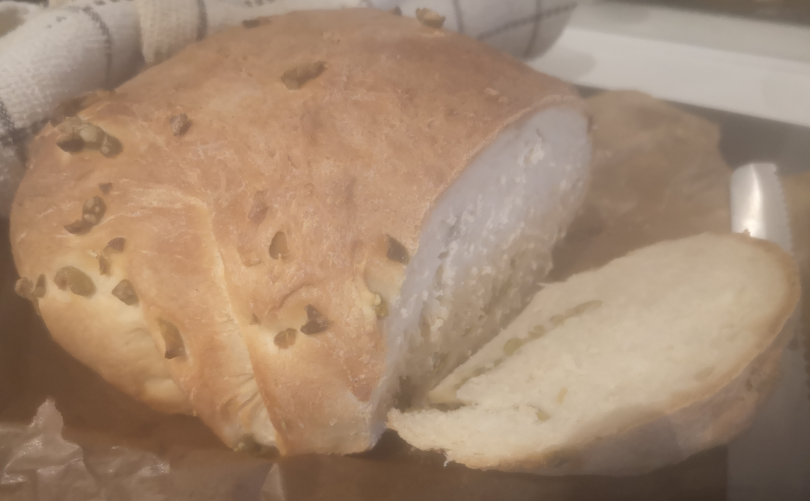 Clearly, I didnt spread the olives properly… It tastes good to be honest. Maybe next time I will try with a mix of white flour and rye.
Honey Cake
Ingredients
100gr brown sugar
100gr honey
125gr extra virgin olive oil
140gr water
150gr self raising flour
1/2 tsp ground cinnamon
1/2 tsp ground cloves
1 tsp baking powder
2 medium eggs
1 tsp vanilla paste
Process
Preheat oven at 200C
Put sugar, honey, olive oil and water in a saucepan over medium heat. Bring to the boil gradually and simmer for 2-3 minutes. I didnt get a syrup, it was still "quite" liquid. Remove from heat and let it rest
Put flour, cinnamon, cloves and baking powder in a bowl and mix properly.
In a cristal bowl, put the eggs and vanilla, whisk well. Then pour the liquid mix slowly always keep whisking.
Then add the flour mix to the liquid mix. Mix well, and taste it!!!
Pour the mix into a tin (with baking paper)
Bake for 30-40 minutes. It is ready when you poke with a skewer and comes out clean. It has to be moist!!!
Let it cold down
And not bad result. Very moist and tasty!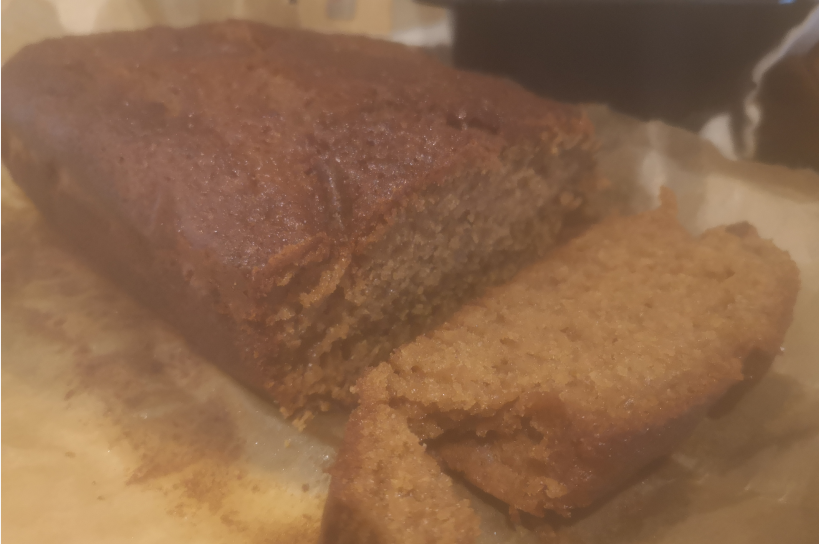 You can add some icing after the baking but I thought it was not necessary.