This is a recipe recommended by a good friend. It has been a long time since I have baked my choco brownies but I decided to try this recipe as I had my homemade tahini.
Ingredients:
100g butter
100g dark chocolate (85%)
15g 100% cocoa powder
3 large free range eggs
175g sugar
1 tsp vanilla paste
1 tsp salt
180g tahini
50g plain flour
Process
pre-heat oven at 175C. I used a rounded cake tin (26cm diameter – a bit smaller is better). Cover the whole tin with baking paper and use a bit of butter on top of the paper.
In a sauce pan, at medium heat, melt the butter. Then remove from the heat, and add the chocolate and cocoa powder, whisking until smooth.
In a bowl, whisk the eggs, sugar, vanilla and salt until properly mixed and thickens up a bit. Add the tahini, mix well. Then fold the flour.
Take 1/2 of the tahini mix to a different bowl. The rest, add it to the chocolate mix. Fold until fully combined.
Pour the chocolate mix into the cake tin, spreading evenly.
Then add on top the reserved tahini mix, with a stick, swirl the mix so you have bit of the tahini mix inside the chocolate mix.
Bake for 25m or less. Check the center is moist and sides are set. If not, bake for a couple of minutes more.
Remove from the oven and let it cool down for 30 minutes.
Cut in squares and try.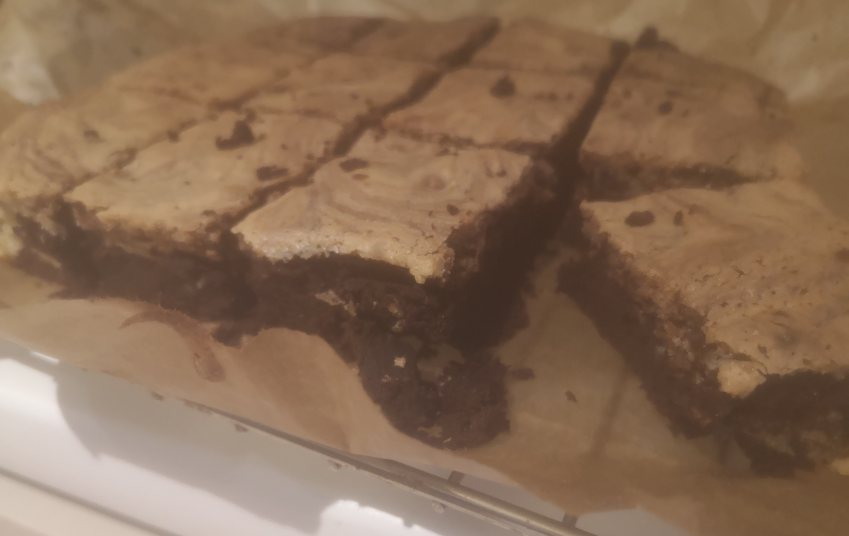 To be honest, mine were a bit dry, no moist enough so it is better to check early than leave it in the oven too long.
The taste is different, the tahini gives it a nutty flavour. It is not very chocolatey neither sweet. I need to try again.