I have been lucky to try some Jamaican Rum Cake brought from Jamaica so I decided if I could make it myself. I found some recipes online like this (my main source) and this.
Ingredients:
200g butter at room temperature + a bit for greasing
1 cup of brown sugar
4 eggs
1 tbsp lime juice
1 tbsp lime zest
1 cup of blended fruits: raisins, cherries, mixed fruit, etc. Pre-soak the fruits earlier with water and a bit of white rum.
1 tsp vanilla paste
1 tbsp almond liquor
1/4 cup of white rum + a bit for brushing
1/2 cup of Port wine (I dont have red label / sweet red wine)
1 cup plain flour
1 tbsp cinnamon
1 tbsp mixes spice
1 tbsp gratted nutmeg
1.5 tbsp baking powder
1/2 cup bread crumbs
3 tbsp black treacle (I dont have "browning liquid")
Process:
Pre-heat oven at 180C. Grease a cake tin.
Cream butter and brown sugar in a bowl. Use a wooden spoon initially and then you can use this whisk. The video use an electric whisker but I think I managed a decent mixture. You want something creamy and fluffy.
In another bowl, mix the eggs, lime juice and lime zest.
Add the egg mix to the butter mix bit by bit, whisking constantly.
In another bowl, mix the blended fruit, vanilla, almond liquor, rum and Port.
And the fruit mix to the butter/egg mix bit by bit, whisking constantly.
Clean one of the bowl. Add the flour, cinnamon, mixes spice, nutmeg, baking powder and bread crumbs. Mix well.
Add the flour to the wet mix, bit by bit and mixing constantly.
Finally, add the black treacle that should bit the dark color to the cake. Mix well.
Pour the cake mix into the tin. Shake until level.
Put a small bowl with water in the oven or spray with water the oven to create extra moisture.
Bake for 1h 15m aprox. Remove from oven only when a skewer comes out clean from the center of the cake.
Once you take the cake from the oven, brush it with white rum while hot.
Leave it cool down for 1h.
The real thing:
My thing: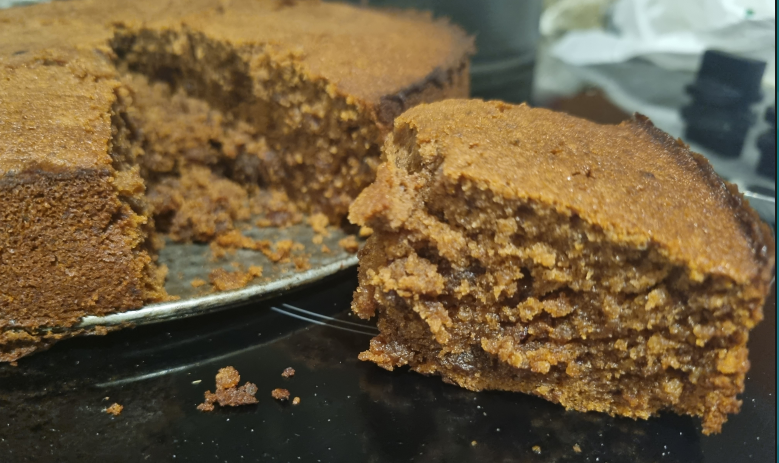 To be honest, although my version doesnt look like the original one, it was tasty. I think these were my errors:
I didnt soak the dry fruits so they didnt blend properly. I need to find more info about how to prepare this part properly. I think this is the reason the cake is not as "dense" as the original.
I think I over baked it. I lost track of time and it was 1h 30m I think.
The black treacle doesnt give the same black color as in the video. Or I need to put more?
Use more water in the oven. The first video didnt use any but the second did it so I though the second version was more moist and I wanted that.
Although I didnt use Jamaican rum neither Jamaican red wine, the taste was good.