This is a typical Scottish cake and I learned today via an e-course.
Ingredients
180g softened butter
90g caster sugar
90g dark brown sugar
115g plan flour
110g self-raising flour
1/2 tsp baking powder
300g dry mixed fruit
1 tbsp of fresh grated ginger
1 orange: juice + zest
coconut flakes for decoration
50ml Scotch whiskey (optional)
1 tsp grated nutmeg
1 tsp ground ginger
2 tsp ground cinnamon
optional: whiskey butter: 75g softened butter + 75g icing sugar + 1 tbsp whiskey
Process:
Pre-heat oven at 150C. Grease and line a baking tin 20x30cm aprox
Soak the dried fruit with the whiskey, orange juice, orange zest and fresh grated ginger.
In a bowl, cream the butter and sugar until light and fluffy
Add the eggs one by one to the butter mix. Keep mixing
Sift the flour, spices and baking powder on the butter mix. Fold everything with a wooden spoon or spatula.
Drain the soaked fruit, reserve the liquid for later! Add the fruit into the dough, folding it.
Pour the mixture into the tin and smooth the surface.
Bake at 150C for 1h 20-30m aprox. Until golden and springy to touch.
While baking, prepare the whiskey butter. Whip the butter and icing sugar. Add the tbsp of whiskey. Whip and done.
Once the cake is out of the oven, immediately, brush the top with the liquid leftover (add one tsp of sugar) and then add the coconut flakes.
Leave it cool down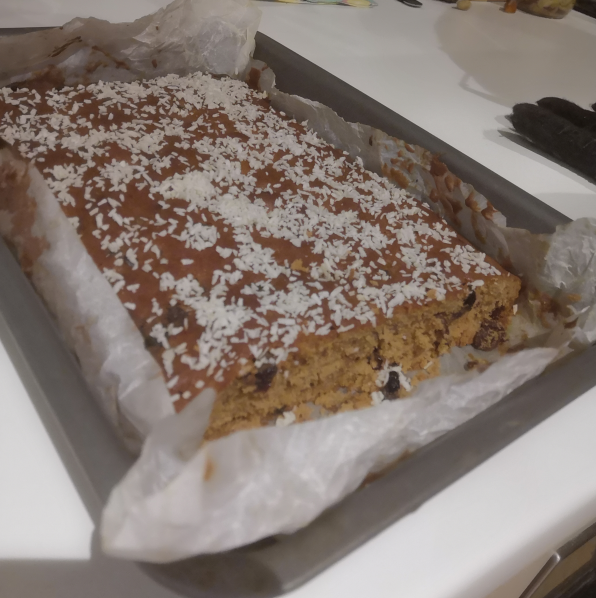 It taste a bit like a Christmas pudding but lighter. I liked it!