I took "inspiration" in this video to cook something with leeks.
Ingredients:
2 big leeks: cleaned as per video and sliced
200g mushroom: cleaned and sliced
3 cloves of garlic finely chopped
5 sheets of lasagne
1 vegetable or beef stock cube + 500ml boling water
20ml cream
1 tsp chilli paste – optional
2-3 tsp soy sauce – optional
Splash of white wine – optional
50g of grated cheese
1 bunch of asparagus
1 green pepper sliced
salt + pepper + a bit of butter
Process:
In a hot pan, fry the mushrooms, they should sizzle.
Add the garlic, be sure doesnt burn!
Add the leeks to the pan. Keep stirring so nothings sticks to the pan.
Season with salt + pepper.
Add the chilli, soy sauce and wine.
Disolve the cube stock in the boiling water.
Add the stock to the mushrooms and leeks.
There will be a look to liquid so keep stirring.
Add the cream.
After a couple of minutes, add a lasagne sheet at each time into the pan. The sheet should cook in the liquid. Repeat with all of them.
The sheets should break down and the sauce shouldnt be very dense anymore.
In a baking dish, use a bit of butter to cover the bottom and pour the mushroom and leek mix.
Pre-heat the oven at 200C
In the same pan, fry the asparagus and green pepper until they are charred.
Add them on top of the mushroom and leeks.
Add the grated cheese on top of the asparagus
Bake in the oven for 15 minutes aprox, until the top is brown.
This is the result: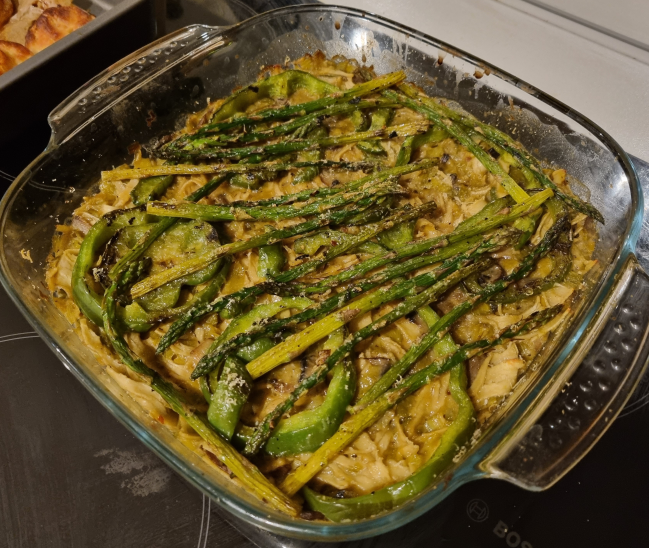 To be honest, it was quite tasty! I liked the idea to cook the lasagne sheets in the same pan with all vegetables.