For NYE dinner, I planned a vegan menu for a couple of friends. I found this video about vegan chicken based on wheat gluten or seitan. I didnt know that product but checking online it was esay to find. I liked the recipe because it was quite complete with the mushroom sauce and creamy potatoes. All the efforts go to the author in the videos.
Vegan Sausage Ingredients:
1 cup of soy milk
1/2 cup of mixed dry mushrooms
2 tsp dried onion
2 gloves of garlic minced
1/2 cup vegetable stock
150g firm tofu
3 tbsp white miso paste
2 tbsp maple syrup (+ 2tbsp for frying)
1 tsp cayenne pepper
2 tbsp tahini
2 tsp dried sage (*I am not keen of dry thyme)
300g wheat gluten / seitan.
Vegan Sausage Process:
In a blender mix all ingredients but the seitan.
Then add the liquid mix to the seitan.
Knead for 15 minutes. I was surprised how spongy was the dough! It wasnt very sticky so it was ok to deal with.
Make a roll from the dough, like a big sausage, then cut in three pieces, or more depending how big is your pans.
Wrap each piece with oven-proof baking paper, like a sweet. Then wrap it again with foil.
Depending on your pan, put two or three pieces, cover well with water the sausages, heat up the water and let it simmer for 90 minutes.
Let is cool down. Remove the foil. At this point, you can keep them in the fridge. For using a different day or carry on.
In a hot saucepan, put 2 tbsp of maple syrup and fried a couple of sausages until the surface is caramelized.
Then put in a pre-heat oven at 220C for 10-15 minutes.
Remove from oven, let it cool down a bit and ready to eat!
Mushroom Sauce Ingredients
250g sliced chesnut mushtooms
2 red onion
Splash of red wine
Salt + pepper
120ml soy cream
Mushroom Sauce process:
In a hot saucepan, add a bit of olive oil, mushrooms and onion. Add salt and pepper.
Once the mushrooms start taking a golden color, add the alcohol. Wait a little bit until it vaporizes.
Add the soy cream. Mix clean for a couple of minutes.
Remove from the heat and serve with the sausages.
Creamy Potatoes Ingredients:
1 can of coconut milk
1 cup of soy milk (use the coconut can)
2 red onions chopped
5 cloves of garlic, minced
1 tsp oregano
2 tsp mustard
2 tsp say sauce (or nutritional yeast)
salt + pepper
5 potatoes
Creamy Potatoes process:
Put all ingredients apart from the potatoes in a pan, heat up at medium heat. Let it simmer.
Pre-heat oven at 180C
Slice the potatoes as much thin as possible.
Add the potatoes to the sauce. The sauce should cover all potatoes.
Let it cook them for 5 minutes or more so the sauce starts to thick a bit.
Pour the potatoes mix in a ovenproof dish. Cover with a bit of baking paper. Put in the oven for 20-25 minutes. Then remove the paper and let the top to caramelize (I had to change the oven setting to grill).
Remove from oven and sever with your mushroom sauce and sausage!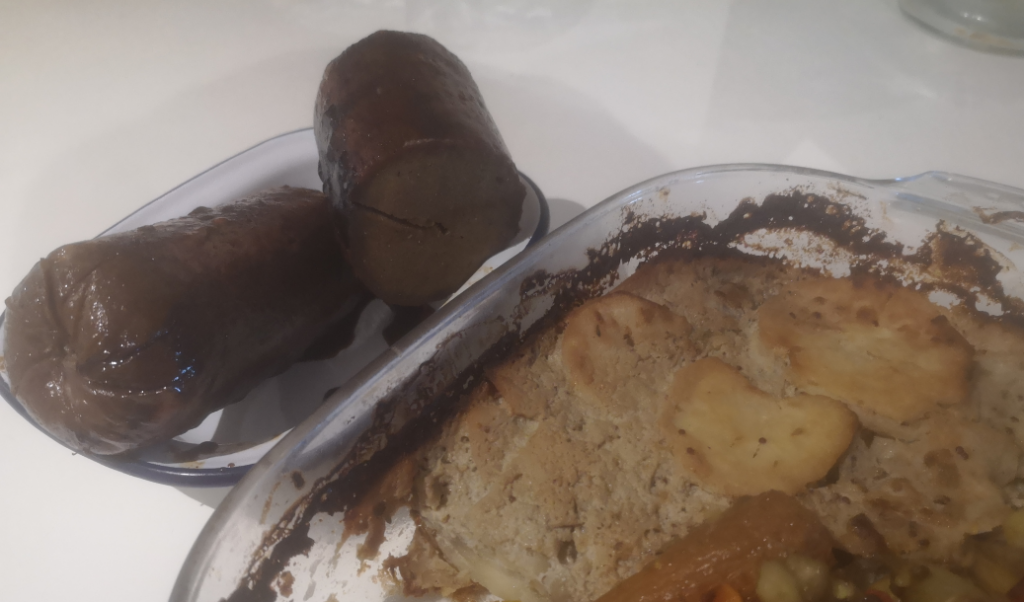 Although the picture doesnt look great, I have to say the sausage was tasty (it didnt taste like chicken) and the potatoes very creamy. I didnt like much the mushroom sauce because the thyme (so I have removed it from the ingredients 🙂