Some years ago I went to this restaurant. We had a nice meal and I remember I tried something totally new: "Timballo di riso". It was super tasty, it wasn't a normal risotto (that still I haven't master it…) and it wasn't a pasta dish. So I only managed to take a picture of the ingredients, because I finished it too quick. Since then, I had it into my to-cook list but finally I decided to try after checking some videos. This was the source for my attempt.
Original Ingredients:
Arborio rice, saffron, Béchamel sauce (milk, nutmeg, salt, butter, whipping cream, flour type 00), Vegetal broth ( celery, carrots, onion, broccoli, zucchini), Fontina cheese, ham, Parmigiano Reggiano cheese, salt
My ingredients:
Glass of risoto rice.
2 glasses of boiling water
1 cube of stock
100g of butter
pinch of saffron (or similar)
2 bay leaves
bechamel / white sauce:
– 50g butter
– 1/2 glass of flour
– 2 glass of milk
– nutmeg, pepper and salt
250g cure ham cut in small pieces.
1 mozzarella ball
chopped parsley
grated Parmesan
breadcrumbs
Process:
In a big pan and medium heat, put the boiling water, stock cube, butter, saffron and bay leaves.
Once all mixed, add the rice. Let it cook at low heat until it gets dense. Stir from time to time to be sure it doesn't stick.
Let the rice to cool down in a try.
Prepare the bechamel sauce. In a pan, melt the butter, add the flour. Once it is combined like a brown paste, start adding milk bit by bit. It should start to form a sauce. Add nutmeg, pepper and salt. Keep adding milk. At the end you should have a creamy tasty sauce.
Put the ham and shredded mozzarella with the bechamel. Add the parsley.
Add the rice to the bechamel mix. Combine everything. Add the mix into a ovenproof glass dish.
Top the dish with a layer of grated Parmesan and then another of breadcrumbs.
To the oven at 180C until golden on top (20 minutes)
Here we go!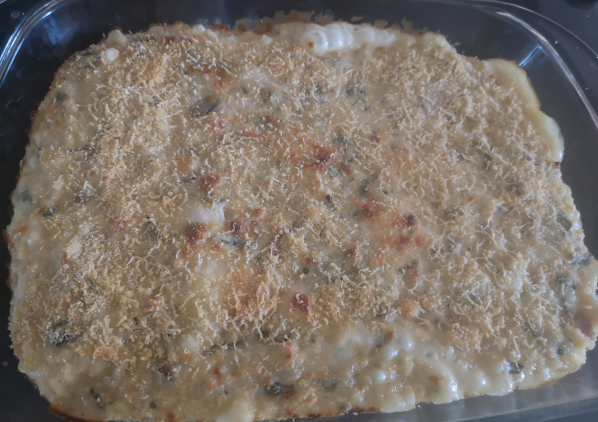 To be honest, I don't remember the taste so I can't compare but it was good. It is like a risotto without mushrooms but with cheesy bechamel!
So again, I liked it, I enjoyed cooking and had a good lunch for the work days! I don't need much more (enjoy my job?)